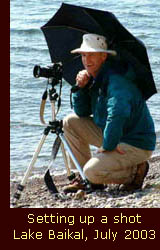 Montrealer Frederic Hore is an award-winning freelance photojounalist, writer, lecturer and teacher. His images and/or stories have been published in the New York Daily News, National Post, Montreal Gazette, Ottawa Citizen, Edmonton Journal, Calgary Herald, Vancouver Sun, CNN iReport, CITY-TV, Broadcaster, The Weather Network, PhotoLife, Canada's premier photographic magazine, US adventure monthly Hooked on the Outdoors, Canadian Camera, plus numerous other publications and websites.

Graduating with a Diploma in Communication Arts from Dawson College in Montreal, Frederic has lived or worked in virtually every major city in Canada from coast to coast. His international excursions, including extensive travel in the continental United States, has taken him to more than 50 countries on all seven continents, including seven expeditions to Antarctica.

Frederic's odysseys form the foundation for dynamic digital slide shows and multimedia productions, presented with engaging music and lively travel lore, illustrating the people, culture, life, history and fauna of the lands he visits. In the last 18 years, he has presented more than 170 shows to public and private organizations in the Montreal region, and on-board expedition ships, to popular acclaim.

For those interested in pursuing their photographic passion, Frederic teaches a variety of workshops for all skill levels at the Stewart Hall Community Centre in Pointe Claire, Quebec during the winter months. Stimulating and well organized photographic field trips and outings, are offered throughout the year.

A volunteer and active member of the Lakeshore Camera Club of Pointe Claire, Quebec, he leads popular outings as their photo Field Trip "Leadah." He previously served the club in executive positions as Architecture Chair (2013-2015) and Nature Chair (2003-2005).

An outdoor enthusiast, Frederic is an avid hiker, canoeist, cyclist, cross-country skier and certified scuba diver. His imagery may be viewed at Remarkable Images.ca

Some of his recent travels

Through dangerous lightning storms, undulating highways, and lively cities, for 26 days in December 2013, Frederic drove on a crazy and frenetic, 10,360 km road trip throughout Argentina. Starting at Buenos Aires, he headed north to the mighty waterfalls at Iguazu, then south to stunning Patagonia - revealing the history, culture, and wildlife, of the land of his forefathers.

Then in January 2014, he travlled way south, to Ushuaia, hopping onto the Russian research ship Akademik Ioffe, for a 13 day voyage of discovery with One Ocean Expeditions, to the coldest, driest, and windiest continent in the world – Antarctica! Up close views of penguins nuzzling their cute and fuzzy chicks, drowsy sea lions, enormous breaching whales, diverse bird life, and of course the stunningly beautiful, icy landscapes - made for an exciting odyssey.

An extended 2012 excursion to France, saw Frederic and his new fiancée Josée, touring its alluring Renaissance treasures, from the Château de Versailles near Paris, to castles dotting the Loire River valley, where the Kings and Queens of France came to romp! The incredible medieval festival in Dinan, and the austere abbey of Mount St Michel in Brittany, were the pièce de résistance!

The summer of 2011 saw Frederic exploring the HOT glacial paradise of Iceland, photographing cute puffins and majestic birds in the West Fjords, scaling huge glaciers on the Vantnajokul ice cap, then studying steaming, desolate, puffing volcanoes, as a volunteer with scientists and volcanologists from the Earthwatch Institute.

In 2009, a second pilgrimage to the Czech Republic, saw him photographing elegant Prague, trekking in the Sumava Mountains along the old and divisive Iron Curtain, then peering into majestic castles, châteaus, and underground caverns in the surrounding countryside, of this distinctive and enchanting country.

Siberia, the Russian Far East and Mongolia enticed Frederic back to Asia, where he traveled by train, bus, jeep and by foot for seven weeks during the summer of 2008. While in Mongolia, he worked once again with biologists and scientist from the Earthwatch Institute, tracking and photographing endangered wildlife and cinereous vultures at the Ikh Nart Nature Reserve, in the Middle Gobi desert.

And a three-week journey to Jordan in 2007 saw him exploring the 2,000 year-old Nabataean ruins of Petra, ancient biblical sites, massive Crusader castles, and a revealing three-day trek through the undulating desert of Wadi Rum, made famous by Lawrence of Arabia.

There are of course many other adventures– too numerous to list here. A coming book and blog with tales from the trails... will reveal all!
Affiliations
National Press Photographers Association (NPPA)––www.nppa.org
Professional Writers Association of Canada (PWAC)––www.writers.ca
Canadian Association for Photographic Art (CAPA)––www.capacanada.ca
href="http://www.lccphoto.org"target="_blank">www.lccphoto.org